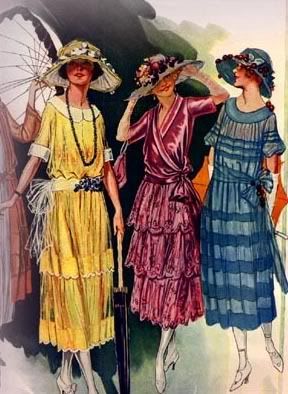 This is a picture from the American magazine
The Delineator
(a fashion magazine published from 1873 to 1937 when it was merged into another magazine:
Pictorial Review
). It shows three women of the latest fashion. The clothing is fancy, but it is everyday wear - for the rich and idle. But it should be noted that the clothes of the less well to do had at this time (post World War I) started to closer mimic that of the more well to do, even when it came to ordinary day-wear, and pictures like this served as an inspiration for the 'ordinary' woman.
The clothes shows the transition from the 1910's to the flapper fashion of 1920's very clearly. The lack of silhouette that to many is the clearest sign of the 20's fashion was in fact already a reality during the Great War. The clothes became much simpler than they had been during 'The belle Epoque' at the turn of the century. That is not to say that all things like lace and beads disappeared from fashion, but compared to earlier times things were very different now. Simpler, more restrained.
At this time, 1921, the waist is starting to slowly move towards the hips, away from the waist of the body and the dress did nothing to enhance the figure but instead hang almost like a sack on the human frame. The thing that mostly reveals the fashion of the 1910's still prelevant as late as this is the hats. They have broad brims that shaded the whole face and that would just a couple of years later be replaced by much smaller ones.